Our research toward understanding the neurobiology of neuropsychiatric disorders such as schizophrenia, depression and Alzheimer's disease, and to achieve the early diagnosis and optimal treatment of these disorders.We aim to identify diagnostic molecular markers for neuropsychiatric disorders,leading to drug discovery and novel therapeutic treatments.

Research Theme
Clinical research on the pathology and therapy evaluation of brain function and neuropsychiatric disorders
Our research focus is on the elucidation of the pathophysiology of neuropsychiatric diseases, e.g., schizophrenia, depression, and dementia, using PET and MRI. PET enables us to measure the function of neurotransmission in humans.Activation studies using MRI with psychological tasks allow the investigation of regional neural activity.The aim of our research work is the establishment of bio-markers for early diagnosis and evaluation of treatment using PET combined with MRI in clinical studies.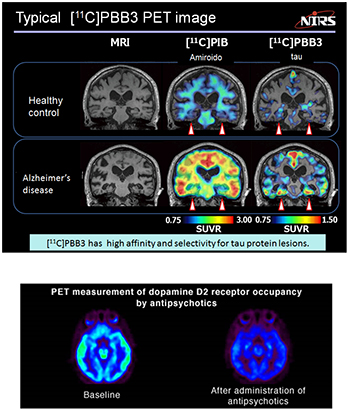 Basic research of the molecular mechanism on the mental and neurological disorders
The mission of the Neuromolecular Dynamics Team is to conduct neuroimaging research on animal models of neuropsychiatric disorders in conjunction with multimodal technologies,including neuropathological,behavioral and electrophysiological analyses,leading to direct insights into early diagnosis and efficacious therapies of the diseases.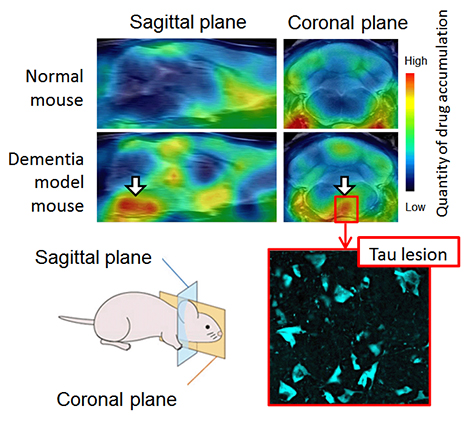 PET image of a mouse brain with [11C]PBB3
The amount of drug accumulation in the brain of a normal mouse is very low, but tracer accumulation is observed in the model mouse, with particularly strong accumulation in the brain stem (indicated by the white arrow).When the brain was extracted and investigated after the scan, numerous tau were observed in the brain stem, demonstrating that the PET image reflected tau accumulation.

PET image of a mouse brain (coronal plane) after administration of TSPO ligand [11C]Ac5216.
The amount of tracer accumulation in the brain of a normal mouse is very low, but in the tau model mouse, increased accumulation was observed in the hippocampus (indicated by the white arrow) at a stage earlier than the age of 9-12 months when nerve cell death occurs, and increased further with aging.
Translational research of the molecular mechanism in the localization of brain function
Our research focuses on the neural processes of controlling motivation and emotions.We study motivational- and emotional-related brain signals in normal as well as model animals, using multidimensional methods, such as PET, MRI, and neuronal recordings.Through clinical studies,our research will contributing to the diagnosis and treatment of the psychiatric disorders that are caused by motivational or emotional dysfunctions.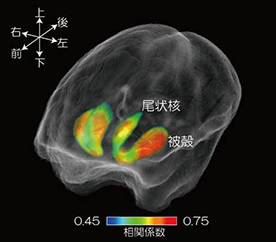 The degree of dopamine deficit in Parkinson痴 disease model monkeys was assessed using [11C]PE2I, and the level of correlation to the progression of motor impairment was converted into a tinted 3D image.The red area, indicating high correlation.(Edited from Nagai et al, 2012)
Research Team
Brain and Mind Research Group
Bain Disorder Translational Research Group
Neural Systems and Circuits Research Group
Animal Model Research Group
Links