Photon radiotherapy is known to increase risks of subsequent primary cancers. Carbon ion radiotherapy has a theoretically lower risk of inducing malignancy compared to traditional photon therapy, but the risk of subsequent malignancies after carbon ion radiotherapy has not been analyzed in detail yet.
While limitations due to this study being a retrospective cohort study, and comparing 2 different cohorts, carbon ion radiotherapy appears to have a lower risk of subsequent primary cancers than photon radiotherapy for patients with prostate cancer. Although prospective evaluation with longer follow-up is warranted to support these results, our data suggest a unique advantage of carbon ion radiotherapy and could support a wider but still cost-conscious adoption of this treatment in patients with expected long-term survival.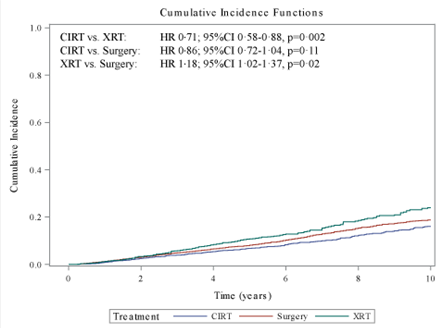 Cumulative incidence of subsequent primary cancers in the carbon radiation, photon radiation, and surgery cohorts. Pairwise comparisons are shown above. HR, hazard ratio; CI, confidence interval.
Reference
Risk of Subsequent Primary Cancers After Carbon Ion Radiotherapy, Photon Radiotherapy, or Surgery for Localised Prostate Cancer, a Propensity Score-weighted, Retrospective, Cohort Study
Lancet Oncology (http://dx.doi.org/10.1016/S1470-2045(18)30931-8)
Dr. Osama Mohamad, MD1,2, Dr. Takahiro Tabuchi, MD3, Dr. Nitta Yuki, MD1, Dr. Akihiro Nomoto, MD1, Dr. Akira Sato, MD3, Dr. Goro Kasuya, MD1, Dr. Hirokazu Makishima, MD1*, Prof. Hak Choy, MD2, Dr. Shigeru Yamada, MD1, Dr. Toshitaka Morishima, MD3, Dr. Hiroshi Tsuji, MD1, Prof. Isao Miyashiro, MD3,4, and Prof. Kamada, MD1,5
1National Institutes for Quantum and Radiological Science and Technology, National Institute of Radiological Sciences
2University of Texas – Southwestern Medical Center, Department of Radiation Oncology
3Cancer Control Center, Osaka International Cancer Institute
4Osaka University, Graduate school of Medicine
5Chiba University, Graduate school of Medicine
*Corresponding author