Abstract
Objective
Polydimethylsiloxane (PDMS) is widely used in lab-on-a-chip (LOC) technologies because of its biocompatibility, optical transparency, low autofluorescence, flexibility, and ease of handling. However, a significant drawback is its hydrophobicity, and PDMS surfaces are commonly hydrophilized by plasma irradiation. Although this technique is simple and effective, it must be applied immediately prior to use owing to rapid hydrophobic recovery. A method that provides long-lasting hydrophilization of PDMS is required to obtain stable and reliable LOCs.
Methods
We have developed a single-step method for the fabrication of PDMS microwells/channels with long-lasting hydrophilic inner surfaces simply through low-energy electron beam (LE-EB, ≤300 kV) irradiation in air (Fig. 1).
Results
After LE-EB irradiation, the water contact angle (WCA) decreased corresponding to the irradiation dose. For samples irradiated through patterned masks, concave pattern could be formed without the need for any chemical treatment such as development (Fig. 1). Moreover, the PDMS surfaces irradiated with LE-EB exhibited excellent hydrophilic stability compared to the conventional plasma hydrophilization method (Fig. 2). We found that 55 kV LE-EB irradiation in air induced multiple chemical reactions (e.g., oxidation, decomposition, and crosslinking) in PDMS and generated a ~40-µm-thick hydrophilic silica-like layer on the surface, which was the key to the prolonged hydrophilicity and simultaneously produced dozens-of-micrometers-deep concave wells. The hydrophilic microwells generated on the hydrophobic PDMS surface easily trapped nano-/picoliter droplets and cells/single-cells.
Conclusions
We developed a single-step fabrication method for PDMS cell-adhesive microwell arrays with long-lasting (> 10 months in aqueous medium) hydrophilic inner surfaces using LE-EB. This method can realize stable and reliable LOCs and cater to the expanding demand in biological and medical applications, such as cell/tissue patterning and single-cell-level high-throughput analyses for diagnosis, drug screening, and stem cell biology.

Fig. 1. Schematic illustration of single-step fabrication of concave patterns with long-lasting hydrophilic inner surfaces (green areas) on hydrophobic PDMS surface. The droplet array was obtained after wetting the sample surface with water.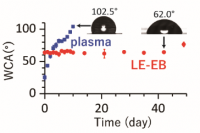 Fig. 2. Water contact angles (WCAs) of LE-EB-irradiated and air-plasma-irradiated PDMS as a function of storage time under cell culture conditions.

Fig. 3. Schematic illustration of the procedure for forming cell-trapping droplets, and micrographs demonstrating cell-trapping.
Reference
Single-step fabrication of polydimethylsiloxane microwell arrays with long-lasting hydrophilic inner surfaces
Tomoko Gowa Oyama1,*, Bin Jeremiah Duenas Barba2, Yuji Hosaka1, and Mitsumasa Taguchi1
1Quantum Beam Science Research Directorate, National Institutes for Quantum and Radiological Science and Technology (QST), 1233 Watanuki-machi, Takasaki-shi, Gunma 370-1292, Japan
2Chemistry Research Section, Philippine Nuclear Research Institute, Department ofScience and Technology, Commonwealth Ave., Diliman, Q.C., Philippines
*Corresponding author
Applied Physics Letters, 112, 213704 (2018)
Single-step fabrication of polydimethylsiloxane microwell arrays with long-lasting hydrophilic inner surfaces: Applied Physics Letters: Vol 112, No 21
Contact
Tomoko G. Oyama (ohyama.tomoko=qst.go.jp) (replace "=" with "@")
Quantum Beam Science Research Directorate, National Institutes for Quantum and Radiological Science and Technology (QST)