QST Re-designated as IAEA Collaborating Centre in Four New Fields
On 22 September 2022, QST was re-designated as an IAEA Collaborating Centre. As the first IAEA Collaborating Center in Japan, The National Institute of Radiological Sciences (NIRS) was designated in 2006, which was succeeded by QST in 2016. This is the fifth term of the four-year designation.
The designated fields have been revised for this term from the previous ones, and are "Radiation Oncology," "Nuclear Medicine and Molecular Imaging," "Dosimetry," and "Science, Technology, and Society (STS)". The work plan is to contribute to the IAEA's projects with a focus on human resource development in the Asian region.
On the same day as the redesignation, a signing ceremony was held in the IAEA Headquarters. Dr. Takashi Nakano, Managing Director of the Quantum Life and Medical Science Directorate, attended the signing ceremony in the presence of HE Mr. Takeshi Hikihara, Ambassador Extraordinary and Plenipotentiary of Japan (Permanent Representative of Japan to the International Organizations in Vienna).
The IAEA was represented at the ceremony by Dr. Najat Mokhtar, Deputy Director General and Head of the Department of Nuclear Sciences and Applications, and Dr. May Abdel-Wahab, Director of the Human Health Division. After Dr. Mokhtar and Dr. Nakano gave a speech respectively, HE Mr. Hikihara kindly expressed his warm welcome and expectations to the Collaboration.
The ceremony concluded with signatures and a commemorative photo.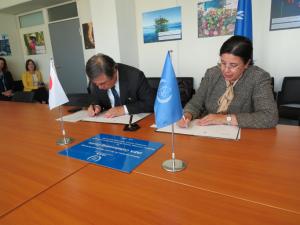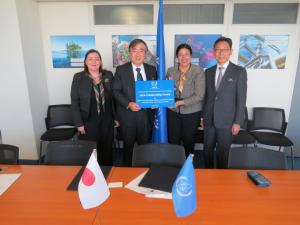 Caption left: Dr. Nakano (left) and Dr. Mokhtar (right) signing on the agreement.
Caption right: Presentation of the plaque (from right to left: HE Mr. Hikihara, Dr. Mokhtar, Dr. Nakano, and Dr. Abdel-Wahab)
QST will contribute to a wide range of international organization missions in the field of quantum science and technology, including the activities of this IAEA Collaboration Centre.
History of IAEA Collaborating Centre Designations
| | |
| --- | --- |
| Jan. 2006-Dec. 2009 | The National Institute of Radiological Sciences (NIRS) was designated as the IAEA Collaborating Centre for the first time in Japan. The field was "Biological Effects of Low Dose Radiation". The designation period was 3 years. |
| Dec. 2009-Dec. 2013 | The designation fields were extended to three fields: "Radiation Biology", "Molecular Imaging", and "Charged Particle Therapy". NIRS was the first institute in the world to be designated as an IAEA CC in multiple fields. The designation period was 4 years. |
| Jan. 2014 | Re-designated as an IAEA Collaborating Centre in the same three fields. The designation period was 4 years. |
| Apr. 2016 | The designation was succeeded by QST. |
| Jan. 2018 | Re-designated as IAEA Collaborating Centre and started activities in the three fields of "Biology for Risk Reduction of Radiotherapy", "Nuclear Medicine and Diagnostic Imaging" and "Charged Particle Therapy". The designation period was 4 years. |
| Sep. 2022 | Re-designated as IAEA Collaborating Centre for the following four fields: "Radiation Oncology," "Nuclear Medicine and Molecular Imaging," "Dosimetry," and "Science, Technology, and Society (STS)". The designation period is 4 years. |