The center have had various types of international activities as listed below:
International organizations
IAEA: International Atomic Energy Agency
QST was designated as a Capacity Building Centre (CBC) of IAEA for emergency preparedness and response in the field of medical management of radiation exposures and dose assessment, on 20 September 2017.
CBC is an organization or group of organizations with capabilities to implement education, training or information sharing activities, which is designated by IAEA. QST has hosted some IAEA's training courses and fellowships under this framework.
QST is also registered as a member institute of the Response Assistance Network (RANET) of IAEA.
WHO: World Health Organization
QST was designated as Collaborating Centre of WHO in September 2013 and re-designated in September 2017. The Terms of Reference of the CC are in the field of radiation emergency medicine, biodosimetry, indoor radon, and medical exposure.
As a CC, QST also join the REMPAN: Radiation Emergency Medical Preparedness and Assistance Network, organized by WHO(World Health Organization), which was established in 1987.
Global Health Security Initiative:GHSI
QST join the GHSI as experts in nuclear and radiological working group. GHSI was established in 2001 in order to cooperate in response to health crisis in the world including radiological terrorism.
Bilateral cooperation
Memorandum of Understanding
National Institute for Radiological Protection, NIRP China CDC (China)
Institut de radioprotection et de sûreté nucléaire, IRSN (France)
University of Ulm (Germany)
Korea Institute of Radiological & Medical Sciences, KIRAMS (Republic of Korea)
King Abdulaziz City for Science and Technology, KACST (Saudi Arabia)
Sent staff members to the following institutes:
Bundeswehr Institute of Radiobiology (Germany)
Radiation Emergency Assistance Center/Training Site, REAC/TS (U.S.A)
Invited experts from the following institutes:
Nuclear Regulatory Authority (Argentina)
Health State Secretary of Goias (Brazil)
Brazilian National Nuclear Energy Commission (Brazil)
Health Canada (Canada)
Institute of Radiation Medicine of Chinese Academy of Medical Science & Peking Union Medical College (China)
Commissariat à l'énergie atomique et aux énergies alternatives, CEA (France)
Institut de radioprotection et de sûreté nucléaire, IRSN (France)
Percy Hospital (France)
Karlsruhe Institute of Technology, KIT (Germany)
Federal Ministry for the Environment, Nature Conservation and Nuclear Safety (Germany)
Environmental Protection Agency (Ireland)
University of Turin (Italy)
Chernobyl medical center (Lithuania)
Burnasyan of the Federal Medical Biological Agency of Russia (Russia)
Ministry of Health (Saudi Arabia)
Rajavithi hospital (Thailand)
Gulhane Medical School (Turkey)
Health Protection Agency, HPA (U.K)
Radiation Emergency Assistance Center/Training Site, REAC/TS (U.S.A)
University of California, Los Angeles, UCLA (U.S.A)
University of Washington Medical Center (U.S.A)
Tennessee Department of Health (U.S.A)
Center for Disease Control and Prevention, CDC (U.S.A)
Participants to QST training courses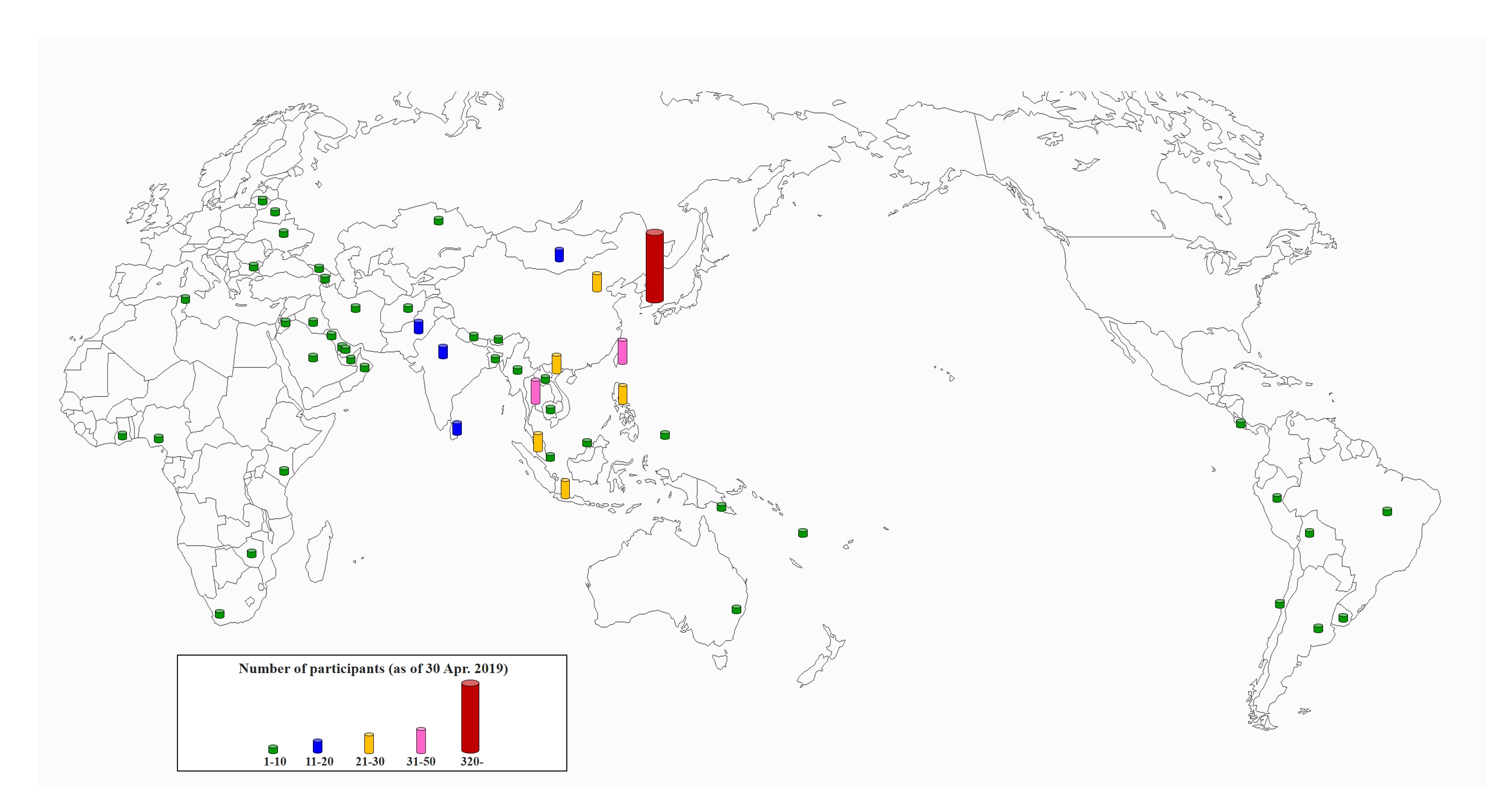 International collaboration
ARADOS
ARADOS (Asian Radiation Dosimetry Group) is a voluntary network on radiation dosimetry among Asian countries and have been active since 2015. A prospectus of ARADOS is to establish a platform for promoting the research and development and Asian cooperation in the field of the dosimetry of ionizing radiation.