The QST international symposium is held annually by the National Institutes for Quantum and Radiological Science and Technology (QST), with the purpose of bringing together distinguished scientists from all over the world to discuss a particular topic of current relevance. The main theme of the symposium in 2020 is "quantum materials science", covering the foundations of all quantum technology, including quantum computing, quantum sensing, quantum devices, and quantum machines. Topics of particular focus will be materials for quantum sensing, state-of-the-art synchrotron radiation analysis, and spintronics materials, areas of particular interest to QST.
This year's symposium will be held online thorough Cisco Webex Events, since there are no signs at present that COVID-19 will be under control at the time of the symposium. A venue at QST's Takasaki campus has also been secured for speakers who are able to attend in person, and presentations made on site will be streamed over the Webex system.
This symposium should be an excellent opportunity for participants to explore the frontline of quantum materials science. With topical presentations and lively discussion we hope to create an environment that will provide inspiration leading to "quantum leaps" in the research activities of each participant.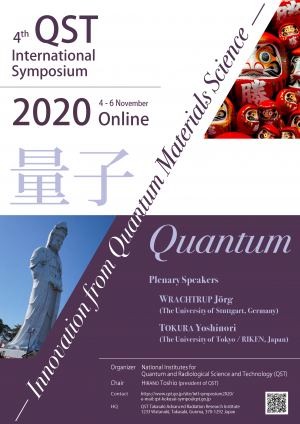 Designed by K. N. (QST)
Outline of the Symposium
Organizer
National Institutes for Quantum and Radiological Science and Technology (QST)
Chair
HIRANO Toshio (President of QST)
Program Committee
ITOH Hisayoshi (QST), Chair
MAEKAWA Yasunari (QST), Vice-chair
HATANO Mutsuko (Tokyo Institute of Technology, QST), KATAYAMA Yoshinori, OHSHIMA Takeshi, KAWASUSO Atsuo, SAKAI Seiji (QST)
Organizing Committee
ITOH Hisayoshi (QST), Chair
HAKODA Teruyuki (QST), Vice-chair
KAWACHI Tetsuya, UTSUMI Wataru, UCHIBORI Yukio, HIGASHIJIMA Satoru, FUJIMAKI Shu (QST)
Dates
4-6 November, 2020
Venue
ONLINE (Cisco Webex Events)
HQ: QST Takasaki Advanced Radiation Research Institute
1233 Watanuki, Takasaki, Gunma, 370-1292 Japan
Language
English
Participation fee
Free
Program
Program of the 4th QST international symposium
Registration
Registration is required for participation in the 4th QST international symposium.
Please register using the online form here.
Following registration, you will receive an email including the URL, access code, and passwords necessary for online participation. Detailed information about the Cisco Webex Events system which will be used can be found at the following URL.
https://www.webex.com/webinar.html
Poster session
4th Nov. 15:30 - 17:30 (The schedule has changed.)
List of poster (updated on 2nd Nov.)
The poster session will be held using the online meeting service "Remo". Detailed information about Remo can be found the instruction manual and at the following URL.
If you wish to participate in the poster session, please send your abstract to qst-kokusai-sympo@qst.go.jp by 23rd October. Please complete the registration process before submitting your abstract.
Abstract:abstract template (Microsoft Word)
Poster: Free format
Deadline for receipt of abstract file:23rd October
Abstracts
Abstracts of the 4th QST International Symposium
(Downloadable until 7th Nov.)
Contact