INVESTIGATION
Radiation effects in reactor materials and electronic devices for space can be investigated using ion beams.
Semiconductor devices strong in a severe environment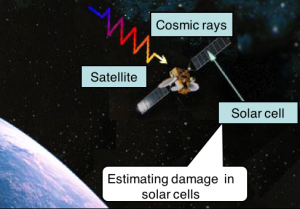 In space, semiconductor devices are exposed to high energy cosmic rays, especially protons and heavy ions. Resultant radiation damage causes a device to operate incorrectly. Ion beams can be used to estimate the influence of damage and excess charge on the operation of a device. They are also applied to the development of radiation resistant semiconductors to be used in space.
How is it investigated?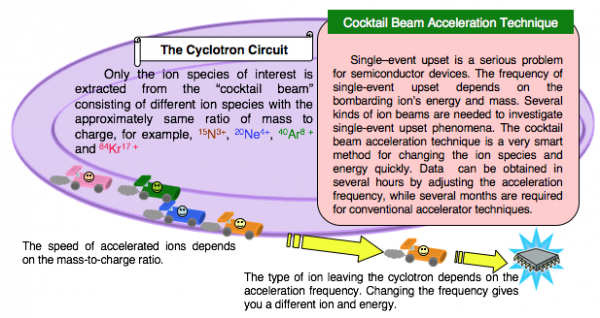 What's possible?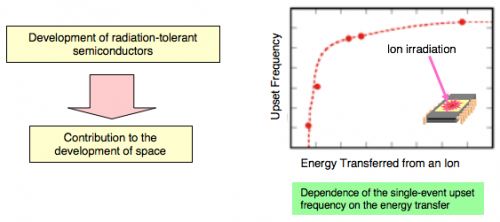 Materials for fission reactors and a future fusion reactor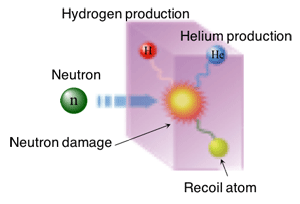 Structural materials for fission reactors as well as a future fusion reactor are exposed to intense neutrons for many years. This causes a degradation of the material properties through displacement damages, accumulation of hydrogen and helium gases, and other nuclear transmutation products.
How is it investigated?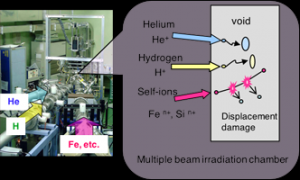 In order to simulate the synergistic effect of displacement damage and the helium and hydrogen accumulation in the materials, triple ion beam irradiation has been conducted using three accelerators simultaneously: a tandem accelerator, a single-ended accelerator and an ion implanter. Using the triple ion beams, a variety of neutron irradiation conditions can be simulated in a relatively short period of time, and the irradiation effect can be investigated efficiently.
What's expected?
Fusion energy is one of the important and promising options to cope with global energy exhaustion, restriction of CO2 gas emission and limited fuel resources.
The ion beam irradiation is a useful tool to investigate the performance of various reactor materials in a simulated reactor condition and help to develop new reactor materials. Particularly, the realization of the advantage of fusion energy depends on the development of advanced structural materials for blankets, because the efficiency and life of the blankets are respectively limited by operating temperature and radiation damage of the materials. Candidate materials such as low activation ferritic steel, and silicon carbide fiber-reinforced silicon carbide (SiC/SiC) composite are tested at a high temperature under the irradiation simulating fusion environment.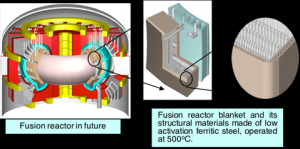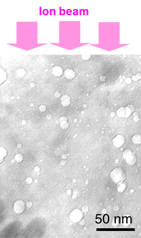 Void image by a transmission electron microscope in a low activation ferritic steel of F82H. The voids were formed during triple ion beam irradiation at 500℃ to 50dpa (5000 appm He & 50000 appm H).