The 2 MV 60kW electron accelerator of the Cockcroft-Walton type is installed in the electron beam irradiation facility. The electron beam irradiation facility is widely utilized for industrial applications as well as material developments. The electron beam is a superior tool for polymer modification, flue gas treatment, and investigation of irradiation effects in semiconductor devices.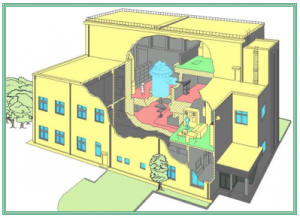 Electron beam irradiation facility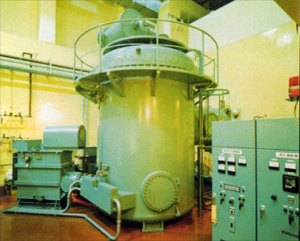 Electron Accelerator
Electron Accelerator
The electron accelerator, equipped with two acceleration tubes, has a dual beam system, supplying either a vertical or a horizontal electron beam. When an experiment is carried out in the vertical beam irradiation room, preparation for the next experiment can be done in the horizontal beam irradiation room.
Specificationof the accelerator
Acceleration voltag : 0.5 – 2.0 MV
Beam current : 0.1 – 30 mA
Scanning width
120 cm (vertical)
60 cm (horizontal)
Dose rate : ~ 60 kGy/s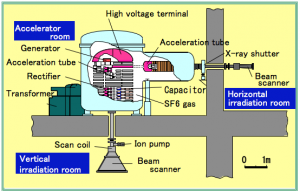 Sectional view : High-voltage circuit is keep in the vault, and an electrical isolation is kept by high-pressure SF6 gas.
Depth-dose distribution
The right-hand figure is an example of the depth-dose distribution for 1 and 2 MeV electrons injected into liquid water. The dose rate is normalized with the maximum value. The electron range and dose homogeneity in liquid water can be estimated from this data.