Research Objects Roles of JT-60
To realize fusion power plant, we urge the fusion plasma research and development in the JT-60 tokamak.
Leading the nuclear fusion research in the world
High β, steady state research and their physics understandings
Contribution to the construction and operation of the ITER (International Thermonuclear Experimental Reactor), and the future DEMO reactor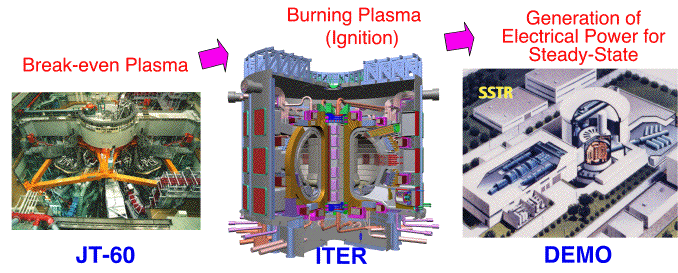 JT-60 Operational History and the Progress of Plasma Performance
We started the JT-60 operation in 1985. JT-60 has been leading the nuclear fusion research in the world. The world record was achieved for the Q value, the ion temperature and the fusion triple product.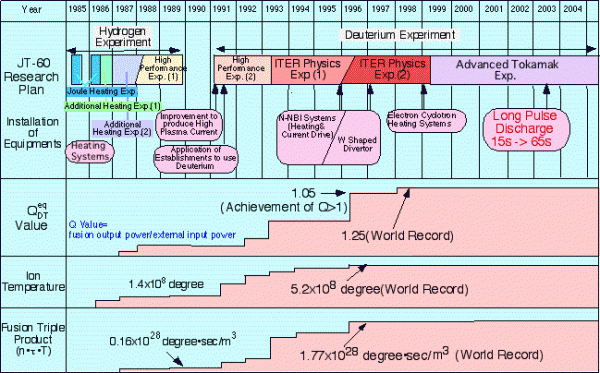 Future Plan
Modification of JT-60 to Superconducting Tokamak
Objectives: to realize high-beta steady-state operation in the use of reduced radio-activation ferritic steel in a collision-less regime.
Planning : For further progress in the high-beta steady-state research, the modification of JT-60 is regarded as "National centralized tokamak (NCT) facility program". Detailed design work is ongoing in collaboration with universities, institutes and industries in Japan.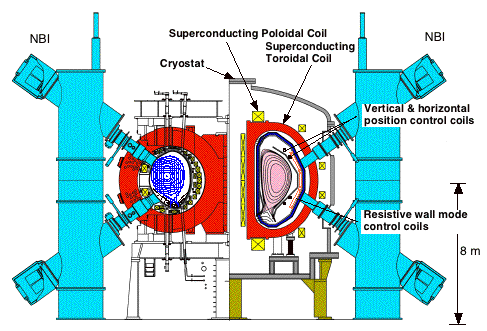 Machine Parameter